North Korea commented Tuesday for the first time about a U.S. soldier who ran into the isolated country's territory last month.
North Korean state-run media KCNA claimed that "Travis King admitted that he illegally intruded into the territory of the DPRK," using the initialism for the Democratic People's Republic of Korea.
Pvt. 2nd Class Travis King, 23, crossed the Demilitarized Zone, the heavily fortified border between North and South Korea, "willfully and without authorization" in July, Defense Secretary Lloyd Austin told reporters last month.
North Korea also alleged that King said he decided to cross into North Korean territory.
KCNA said King "confessed that he had decided to come over to the DPRK as he harbored ill feeling against inhuman maltreatment and racial discrimination within the U.S. Army."
"He also expressed his willingness to seek refugee in the DPRK or a third country," the KCNA report says.
The claims could not immediately be verified.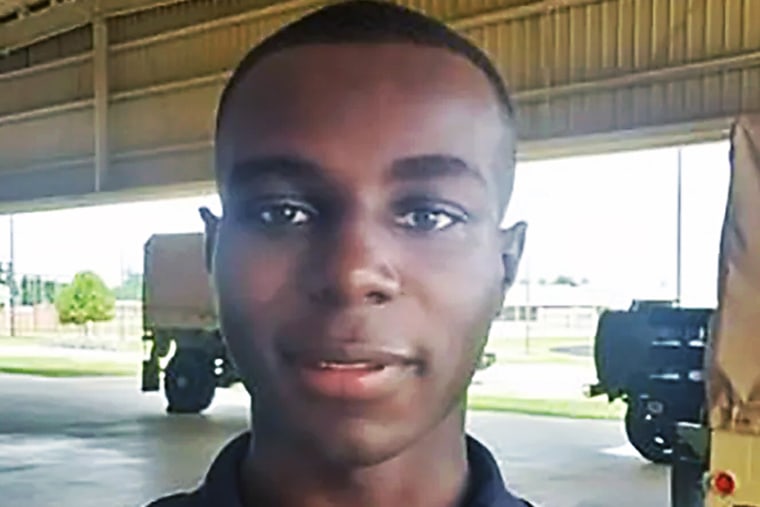 KCNA, officially the Korean Central News Agency, is essentially a mouthpiece for North Korea's authoritarian government.
Defense Department spokesman Martin Meiners said, "We can't verify these alleged comments."
"We remain focused on his safe return. The Department's priority is to bring Private King home, and that we are working through all available channels to achieve that outcome," Meiners said in a statement.
North Korea had offered a very brief response to United Nations officials about King, the Pentagon's spokesman said Aug. 1.
The Pentagon press secretary, Air Force Brig. Gen. Patrick Ryder, told reporters Aug. 1 that U.N. Command had communicated with North Korea through "well-established communication channels through the Joint Security Agency."
"I can confirm that the DPRK has responded to United Nations Command, but I don't have any substantial progress to read out," Ryder said at the time.
King was being sent home from South Korea when he blended in with a group of tourists bound for the Demilitarized Zone and "bolted" across the border on July 18, the Pentagon has said.
Tensions are still high between North and South Korea 70 years after the Korean War. An armistice signed in 1953 ended the fighting, but a peace treaty has never been signed.
North Korea routinely objects to South Korea-U.S. combined military drills, and it has repeatedly launched ballistic missiles in violation of U.N. resolutions.
Sanctions have repeatedly been imposed. North Korea has also six times conducted nuclear tests, which are also banned by the U.N.